Location: Konsthallen (nedre plan)
A selection of his graphic work
During the autumn the art gallery at the Bohus County Museum will be showing an exhibition entitled Through Picasso's Lens - A selection of his graphic work. Pablo Ruiz Picasso (Spanish, 1881-1973) is one of the art world's recognized and prolific artists. As well as painting and sculpting he also worked with art prints throughout his long career as an artist. The exhibition will present some sixty or so graphic works.
Pablo Picasso is recognized for having introduced Cubism together with artist Georges Braque. Cubism broke with figurative art and it paved the way for a variety of other movements in art. For example, abstract art and Surrealism. The insistence on realism, on depiction and perspective is abandoned and the artist's interior life can then be portrayed in a freer approach.
Throughout his life Picasso was both admired and disputed. He was constantly creative – a highly colourful and uncompromising temperament characterizes his life and his work. He portrayed life's various aspects: eroticism, love, the family, and women, as well as referring to classical antiquity and the Greek myths. He also created recurring paraphrases of the art of other well-known artists. He had a very considerable influence during the 20th century when both his work and his person became synonymous with modernism. And round his person developed an extensive web of myths.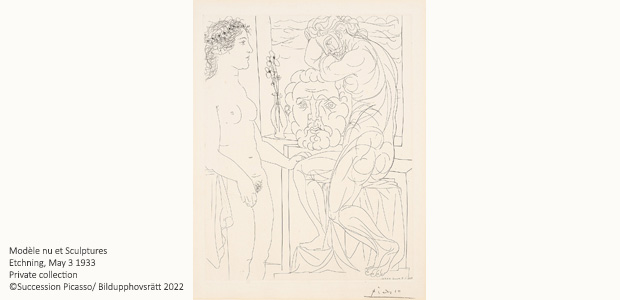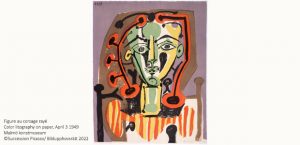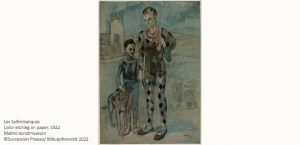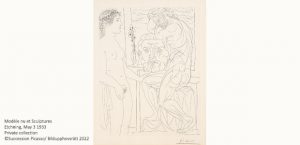 His production of art prints was large and comprehensive, comprising some 2400 original subjects. This exhibition includes a selection of prints from series including Les Saltimbanques (1905), illustrations to Ovid's Metamorphoses (1931), the Vollardsuite (1930-1937) as well as Franco's dreams and lies (1937), etchings in which Picasso openly supported the democratic republic. In the same year he also painted Guernica which is now one of the world's best-known works of art.
At the age of 86 Picasso created 347 etchings and aquatints during the course of seven months, a work now known as Suite 347.  The suite gave rise to debate and was even censored on account of its explicitly erotic, burlesque, almost pornographic content.
Printmaking, as an artistic method, is closely related to drawing. Drawing, like print-making, often has a more rapid, sensitive and intuitive character and it gave Picasso an outlet for his passion for working and for his creativity. He could produce as many as ten drawings in a single day, all of which were carefully dated. His early prints from the 1930s are done in a neo-classical style with a thin, precise line that sometimes erupts in a violent crescendo as in the Minotaur's fierce struggle in the Vollard Suite. Another common subject is the painter and his model, in which the artist's alter ego forms part of the image. In his work with impressions from metal, stones and linoleum Picasso could himself follow his own creative process as the image developed.
"When I begin a series of drawings… I do not know whether these will remain as drawings or will turn into an etching, a lithograph or even a sculpture from it."
Picasso
The exhibition also includes Picasso's later graphic works which are often drawn more boldly and are more expressive in character. Particularly his linocuts use rich earthy colours like brown, beige and red. Yet another important subject for Picasso was bullfighting for which he maintained a passionate interest all his life. Shortly after World War II he began to interest himself in painting on ceramics, and the little town of Vallauris, not far from Nice, served as the centre of his ceramic operations. Alongside examples of his ceramics the exhibition also includes a model of his sculpture of a woman's head (1971) which can be found in the Swedish town of Halmstad.
The exhibition in the Art Gallery of Bohusläns museum has been made possible through generous loans from private collectors and museums in Sweden. Works are on loan from Moderna Museet, Stockholm, Malmö Art museum, Skisserna Art museum in Lund, Norrköpings Art Museum, Eskilstuna Art Museum and the County museum of Jönköping, something for which we are deeply grateful. The exhibition is produced by the County Museum of Bohuslän.